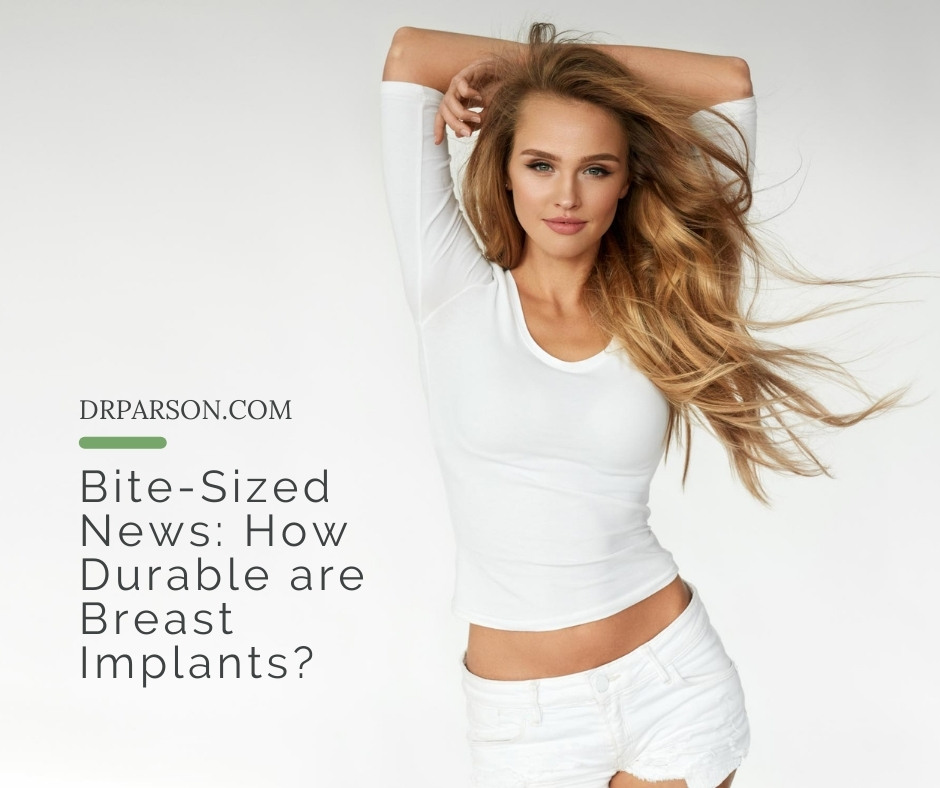 13 Jun

Bite-Sized News: How Durable are Breast Implants?

Active women might think twice about getting breast implants—after all, are they actually durable? Will you be able to still do your favorite activities, from boxing and yoga to sleeping on your stomach? You may remember when one surgeon tossed breast implants off of a multi-story building to showcase their durability, and now a different surgeon is showing off just how durable this technology is (in a very intimate manner). The famous TikTok-ing surgeon really dug his teeth into this experiment during a series of strength tests by literally trying to bite through the silicone sacks. The viral video has garnered over three million views, with many viewers stunned by the results. Of course, at Dr. Shaun Parson Plastic Surgery & Skin Center we aren't surprised. We know how long-lasting and strong today's breast implants are, but sometimes the shock factor of these kinds of "tests" really proves it.

However, the social media surgeon doesn't start with his teeth. First, he tries to destroy the implants with his foot. Only then does he attempt to chew them apart. Neither method is effective, prompting him to call the experiments a "tie." He then tries to obliterate them with a hammer, trying out this tactic on both breast and butt silicone implants. Both hold up to the hammer. The surgeon then moves onto slamming the implants in a door, but they still hold strong. What began as a contest to see which is stronger—breast or glute implants—ends up with both being declared winners. One viewer quipped, "Kim Kardashian must be a tank at this point" considering how strong silicone has proven to be. "They [implants] are actually bulletproof!" another says.
Implants for Breast Augmentation
Although the two types of implants were deemed similar in strength, the surgeon does note that the breast implants "tasted better." That, of course, should not be a factor when deciding if breast augmentation is for you. Instead, the safety, outcome, and durability of breast implants are all key factors. Silicone implants have long been the preferred type of breast implant since most people think they feel the most natural. You can have your surgeon increase the natural feeling by opting for placement under the breast tissue instead of on top of it (particularly for slender patients).
When it comes to silicone breast implants, there are many ways to customize them. There is of course the size, but also the shape (round vs. teardrop). Today, more women are opting for teardrop shape because it mimics the shape and slope of "real" breasts, but round implants will always be popular for those who prefer the look of a push-up bra (without the bra!). There are also different textures to choose from, whether smooth or textured. Textured breast implants "stick" in place better, which is a big plus for those who get teardrop-shaped implants and want to ensure they don't rotate. However, if you choose round implants, it does not matter if they rotate or not.
Incision Placement
The incision placement and style will be your surgeon's call and will depend on many factors including the type and size of your implants. Silicone breast implants call for a longer incision, typically an anchor or lollipop-style incision, since they are inserted "fully formed." A benefit of saline implants is that they usually call for smaller incisions. They are inserted "empty" and then filled with saline after they are in place. However, a skilled surgeon ensures incisions that heal very well, rendering them nearly invisible upon full healing. While incision length should not be the only factor to think about, it's an important one.
The most common incision locations are hidden in the natural crease of the breast. Sometimes an anchor incision (vertical incision from the bottom of the areola to the crease) or lollipop incision (anchor plus an incision around the entire areola) is necessary depending on your current breast size, laxity, and goals. In some cases, a breast lift might be combined with breast implants, which will also dictate the incision style. All of these details will be discussed well before your appointment, beginning with your consultation.
If you have been thinking about getting breast implants, the first step on this exciting journey is choosing the best surgeon for you. Contact Dr. Shaun Parson Plastic Surgery & Skin Center today to schedule yours. Call the office or, for the fastest response, simply complete the online contact form right now.