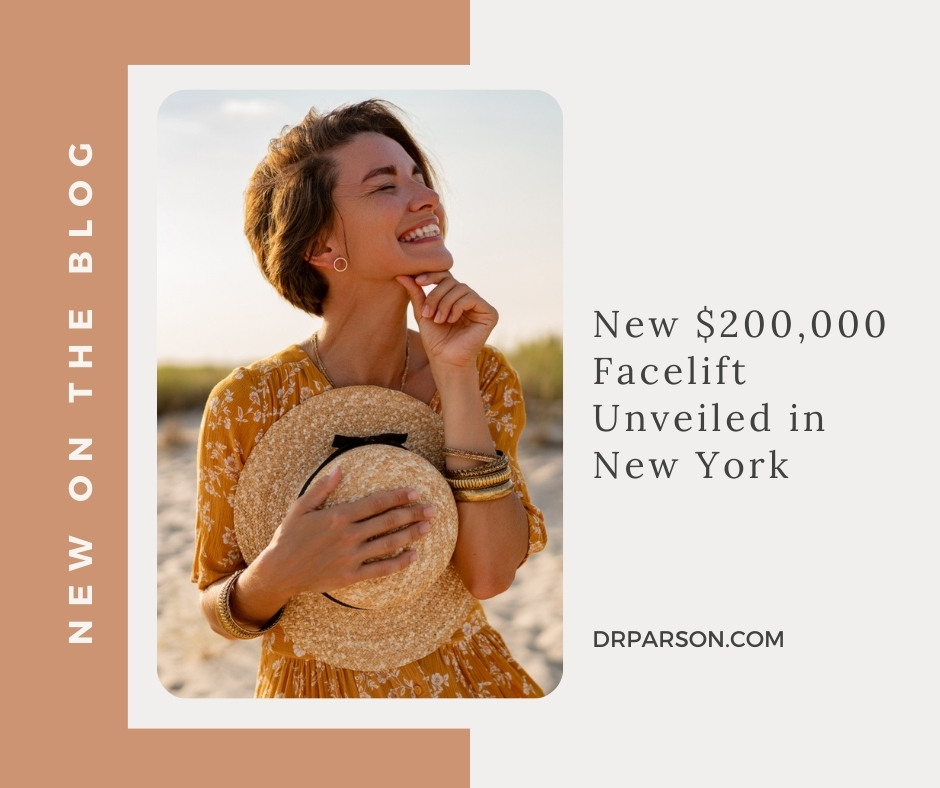 10 Jun

New $200,000 Facelift Unveiled in New York

"How much does a facelift cost?" It's one of the first questions asked during a consultation for the popular procedure at Dr. Shaun Parson Plastic Surgery & Skin Center and the answer is going to depend on your skin's condition and whether you're a better match for a full facelift or a mini facelift. However, the answer will not be $200,000—but it might be in New York. The New York Times recently reported that one plastic surgeon in NYC is charging $230,000+ for "facelifts," but that headline isn't exactly accurate. One of the patients who talked with the newspaper didn't just get a facelift but also upper and lower eyelid lifts, earlobe reconstruction, a browlift, and rhinoplasty. According to the patient, surgery costs were "a little higher than what I expected" but she liked the results. "I have a Rolls-Royce, I have three homes, I have everything I could possibly want, but I was still depressed," she said. "The way I look at this is: This is my face and it's going everywhere I go."

It is not unusual to combine surgeries for optimal results. In fact, a facelift, upper and lower eyelid lift, and brow lift are commonly undergone together because this is the only way to get a total rejuvenation of the entire face. A so-called "facelift" actually just lifts the lower half of the face and the neck (a necklift is almost always included as part of a facelift and does not increase the price). If you have skin laxity on the lower half of the face, you probably have it on the neck and vice versa. Still, even for those who get a facelift, upper and lower blepharoplasty, and a browlift, you will not be paying $200,000 at Dr. Shaun Parson Plastic Surgery & Skin Center. Plastic surgery is no longer for the exceptionally wealthy.
The "New" Face of Plastic Surgery?
According to The New York Times, "Just as the prices of luxury real estate, art, cars and other collectibles have skyrocketed in recent years, so has the cost of a nip and tuck." Although this is true to an extent (inflation is informing all markets), a "facelift" that costs nearly one quarter million dollars is rare—however, there are certainly a handful of plastic surgeons who will take that amount if patients are willing to pay for it.
One of the surgeons interviewed in the article that charges such prices compares it to a "label on clothes." Some people are paying more for plastic surgery for the "name brand" of the clinic. Even though we are living in an era when plastering labels on clothes and handbags is considered gauche at best, there is still that allure for some patients. However, keep in mind that the quality of a reputable surgeon can clearly be seen in testimonials, before/after photos, and his or her track record. There is no need to pay six figures for some of the most common plastic surgeries—you can get gorgeous results with just a little homework on your end and identifying the leading cosmetic surgeons in your area.
The Real Cost of Cosmetic Surgery
The "Zoom boom" is a real phenomenon, and most cosmetic surgery clinics have seen a spike in demand for plastic surgery since the onset of the pandemic. This has led some clinics to raise their prices, but not all. Today, the article reports that the average cost of a facelift in the United States has increased just three percent since 2020 (the average facelift today costs under $10,000 at most clinics). Mini facelifts cost even less because they are less invasive and take less time. These figures are from the Aesthetic Society, which is an association comprised of board-certified plastic surgeons like Dr. Parson.
Some plastic surgeons are making the most of the "boom," claiming that their "advanced techniques" call for advanced prices. However, there are no secret techniques that only "designer surgeons" are privy to. Today's facelifts are more natural-looking than those in the 90s because reputable surgeons are no longer simply trimming away excess skin. The tissue and underlying structures are also addressed, and skin is re-draped to give organic-looking results. So, why exactly are the wealthiest patients opting to spend so much? According to one surgeon who was interviewed, "For the affluent patient I treat, this is really more like purchasing artwork than purchasing a technical procedure." The journalist notes that "many surgeons" perform the exact same procedure "and don't ask their patients to drop close to a quarter-million dollars on the surgery." Another surgeon interviewed (who performs the technique) says, "I understand it is a luxury item, and it does have tremendous value, but it shouldn't just be for the 1 percent."
The cost of a procedure like a facelift does not automatically equate to its "worth." Dr. Shaun Parson Plastic Surgery & Skin Center specializes in facial procedures including the latest techniques for a facelift. To learn more, schedule a consultation today. Simply call the office or complete the online contact form.