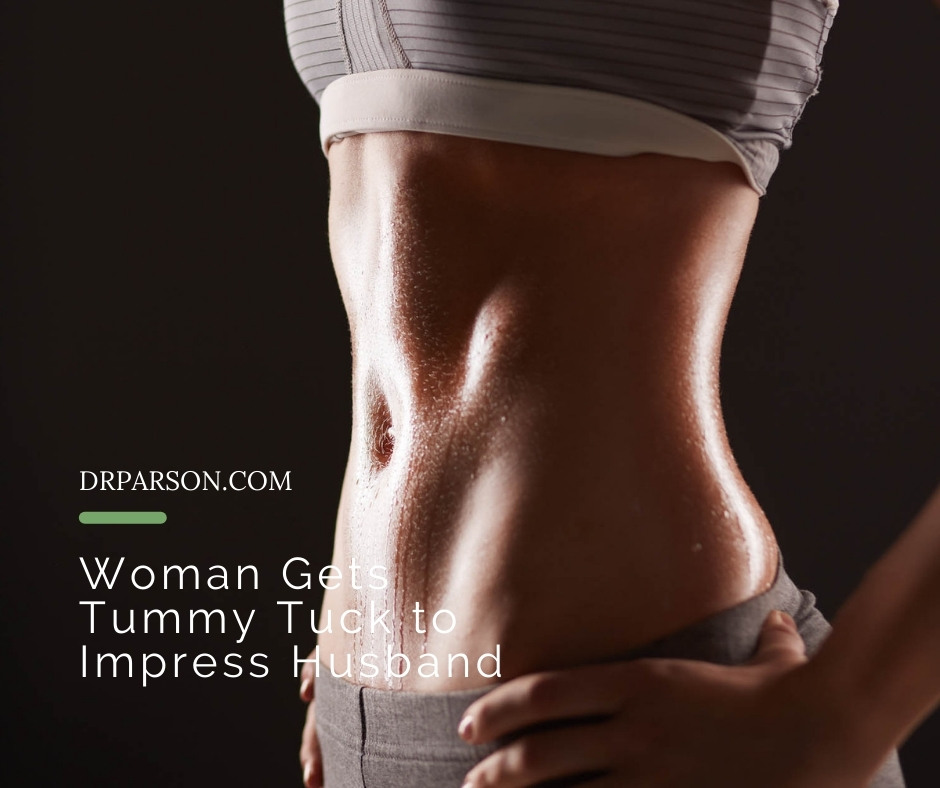 20 May

Woman Gets Tummy Tuck to Impress Husband—Here's How it Went

Tummy tucks can give you the flat, taut stomach you lost—or always wished you had. Also known as abdominoplasty, tummy tucks are one of the most popular procedures because they are the only way to get rid of excess skin causing sagging, laxity, and a crepe-like appearance of the stomach. At Dr. Shaun Parson Plastic Surgery & Skin Center, tummy tucks are at the heart of mommy makeovers, but both men and women alike can benefit from this procedure. However, it's usually women who opt for tummy tucks because they have more elastic skin and, of course, are the ones who carry children (if they so choose to). Both pregnancy and weight fluctuations can lead to unflattering stomach sagging, and there's no denying that a tummy tuck will make you look and feel better. But what happens when you get plastic surgery for somebody else instead of yourself?

An anonymous British woman shared her story with The Sun, including photos with her face blurred out. According to "Jane," she got a tummy tuck in order to look better for her husband. Prior to having children, she was very fit and thin (5'10 and 120 pounds), but like many people she put on significant weight with each pregnancy—100 pounds. She also learned the hard way that losing weight doesn't mean you'll get your pre-baby body back because skin laxity can be just as unattractive to people (if not more so) than excess weight.
An Unexpected Ending
"The encouraging factor was that my fiancé wanted me to do it with the belief that if I could get my body back and I was pretty again and attractive to him again, he would be better to me and we would be happy," she says. Obviously, there are red flags galore in this statement, but many people have been in similar circumstances. She does not expand to say if the relationship was abusive (verbally, emotionally), but from what she shares it leans in that direction.
Unsurprisingly, her fiancé-cum-husband cheated after the tummy tuck. "And now we're both in touch with attorneys and separating," she shares. However, this is not an unhappy ending for Jane. It's quite the opposite. "If someone is not interested in you or they are not giving you the same love or attention back, then you know what?" she asks in a viral video. "They don't deserve you. Because I didn't deserve this and neither do you."
Loving Yourself: How Procedures Can Help
Jane, however, does not regret the tummy tuck. In the process of re-learning to love herself, the procedure played a part. Now dating, she is very open about her body journey to potential partners. The tummy tuck may not have done what she initially hoped it would (get her fiancé to be loyal and loving), but instead it did what it does best: it served as a tool for Jane to re-embrace her body and boost her confidence so that the breakup didn't break her.
A tummy tuck is much more than the removal of excess skin. It also strengthens the abdominal muscles, stitching them back together. This is the same procedure to correct diastasis recti! The creation of a new belly button is almost always needed with a tummy tuck, though typically not with a mini tuck that only addresses the lower half of the stomach.
What You Need to Know About Tucks
Tummy tuck incisions are kept hidden below the belt line so you can still go topless, wear a bikini or shorts, or midriff. Liposuction is often paired with a tummy tuck to optimize the results. After all, the belly is where many people carry excess visceral fat. Finally, you can improve stretch marks and scarring from the incision a few months after the procedure with laser skin rejuvenation and/or chemical peels. Remember that a tummy tuck does not remove stretch marks (save for the stretch marks on the small area of skin that is removed).
Are you ready to fall in love with yourself all over again with a tummy tuck? Schedule a consultation at Dr. Shaun Parson Plastic Surgery & Skin Center by calling the office, or complete the online form for the fastest response.