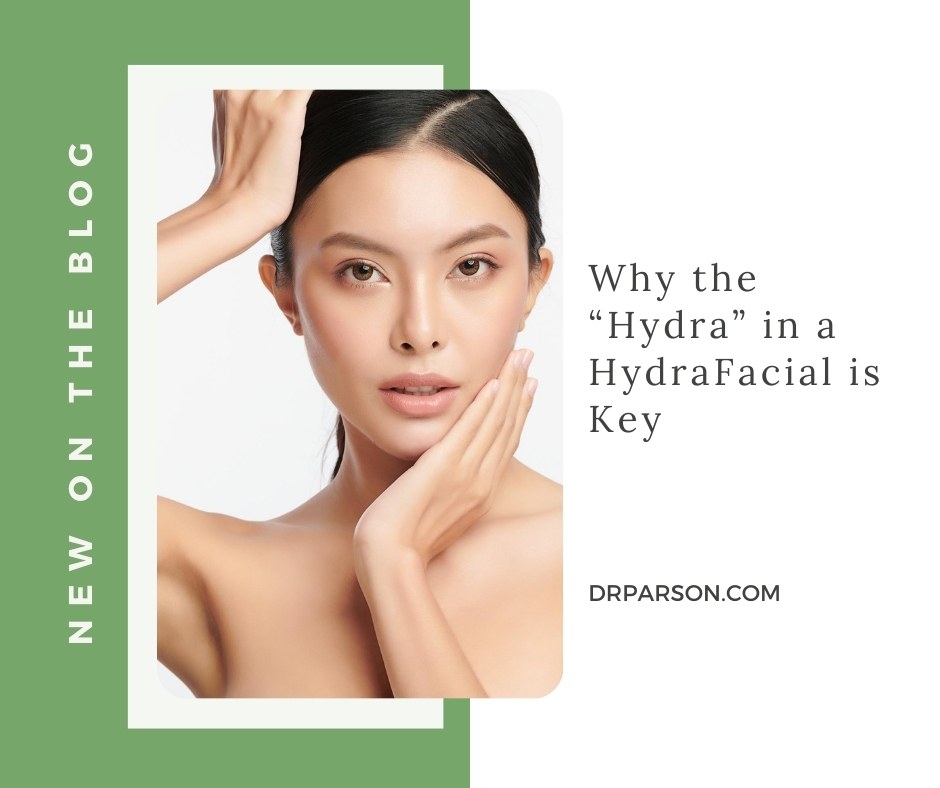 03 Jun

Why the "Hydra" in a HydraFacial is Key

A "facial" is an umbrella term that can mean a lot of things from OTC masks that don't do anything to advanced in-office treatments like the HydraFacial. Parson Skin Center offers this must-have, celebrity-loved option for instant and dramatic skin brightening—but what makes it so special? There's a lot to adore about this system, but the "hydra" part of the facial is part of what makes it so unique. Using proprietary technology, the HydraFacial is actually three treatments in one, requires no downtime, and is suitable for men and women of all ages and skin types.

True to its name, the HydraFacial uses a wet vac technology to simultaneously exfoliate the skin and extract gunk from the pores. During the 30-minute appointment, skin is prepped (makeup, sunscreen, and other topicals are removed) and then your provider goes to work with a handheld device suctioning debris from the skin. It looks and feels just like a tiny wet vacuum and is especially helpful for sensitive skin (though it can be used on just about everyone). If you have skin dryness and tightness, the "hydra" facet of a HydraFacial can feel especially refreshing.
Hydrafacial: 3-in-1 Treatment
Typically, when we think of a "facial," we imagine a mask that's placed on cleansed skin and then wiped away. With a HydraFacial, infusing topicals onto/into the skin is the last part of the process. First, the HydraFacial technology truly cleanses and exfoliates the skin beyond the most superficial layer. However, surface-level debris literally just brushes the top layer of what is causing dull skin, breakouts, and amplified large pores, lines and wrinkles. If you really want a refresher, it's critical to cleanse out the pores (and that's something a typical facial can't do).
Our pores are fantastic at catching and harboring just about everything from daily topicals (makeup, sunscreen, moisturizer, etc.) to pollution and sebum. When pores are clogged, they become enlarged and blackheads occur. Enlarged pores make you look older than you are and create an uneven, bumpy texture. However, cleansing out pores isn't a one-and-done process. This is why treatments like the HydraFacial should be performed monthly.
Medical-Grade Products
When skin is truly exfoliated and pores are clean, that is the ideal time to apply topicals. There is no "barrier" of debris to keep products from working their maximum effect. However, not all topical products are created equally. Only medical-grade products can have the strongest ingredients in the strongest doses. Every HydraFacial ends with a custom-selected application of medical-grade skin care products chosen just for you based on your skin and its needs in the moment. Your provider will go over the selection with you. However, since our skin is an organ and is always changing and responding to changes, this means that every HydraFacial appointment is truly one of a kind.
A HydraFacial is also a great way to try out medical-grade products without committing to an entire bottle. Unlike some other advanced treatments, the HydraFacial is not limited in what product lines can be used. Parson Skin Center carries the most effective and safest medical-grade products and, together, we select the right products for you in the moment.
A No Downtime Treatment
Another great benefit of the HydraFacial is that there is zero downtime. Skin might be a little pink right after your treatment, but this goes away within an hour or two. Most clients think their skin looks and feels its best immediately after the treatment, so it's no surprise that a HydraFacial is often booked for the same day as a big event. You can immediately apply topicals after a HydraFacial, although most clients choose to enjoy the silky, smooth, glowing natural look that a HydraFacial provides.
The HydraFacial is gentle enough for routine use, and many clients fall in love after one session—and continue booking monthly treatments to keep those results. HydraFacials can help address a myriad of common skin concerns such as roughness, dullness, lines, wrinkles, acne, and even some forms of hyperpigmentation. If you have been curious about a HydraFacial or you're ready to take your skin care to the next level, a HydraFacial might be for you. No consultation is necessary for a HydraFacial, but if you want to customize a comprehensive skin care plan we are happy to book a consult to put together a gameplan. Get in touch with Parson Skin Center today and book your consultation or appointment by calling the office or filling out the online form.